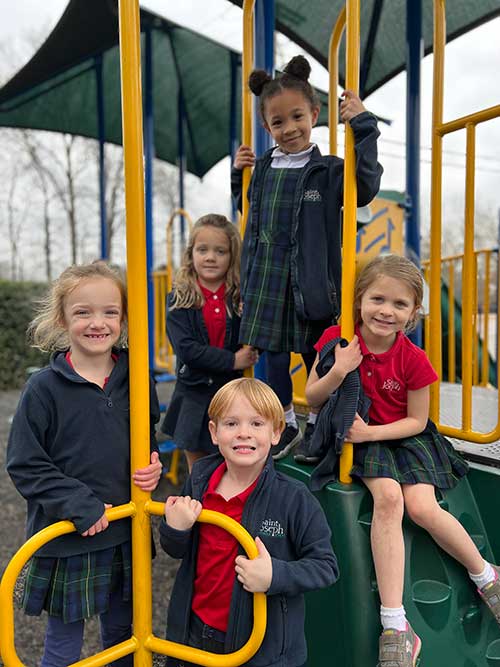 We, as a school and parish, continue to seek ways of ensuring that the blessings of a quality Catholic education are accessible to everyone.
If you are in need of financial assistance for the 2023 – 2024 school year, please read the following information regarding our financial aid options and deadlines.
General School Assistance through FACTS
The school offers a tuition assistance program open to all families. The application must be submitted online to FACTS by Tuesday, February 28, 2023. To apply, simply log in to the FACTS Family Portal account of the family member who is listed as being financially responsible (this should be the person who completed the enrollment/reenrollment and set up the FACTS tuition draft). Once logged in, choose FACTS from the menu options on the left side of the screen. You will then choose "Apply for Grant and Aid". You will be redirected to the FACTS website and will need to follow the instructions there for completing the application. You should already have a FACTS account that you created for your tuition draft so use those same log in credentials. You will need the following documents to complete the application process:
copies of your most recent Federal tax forms including all supporting tax schedules
copies of your 2022 W-2 forms
copies of supporting documentation for social security income, welfare, child support, food stamps, workers' compensation, and TANF.
The school will review all FACTS Financial Aid applications after the February 28, 2023 deadline. We will notify families electronically of their award status and amount on or before Wednesday, March 15, 2023.
All information submitted during this process will be confidential and only reviewed by the school's bookkeeper and principal.
Diocese of Charleston's Saint Elizabeth Ann Seton Tuition Assistance Grant
This tuition assistance grant is for Catholic families in good standing with their parishes. The application, along with a completed FACTS financial aid application (see instructions above for completing the form through FACTS Family Portal), is due to the school by Wednesday, March 15, 2023. The application lists the due date as March 25, 2023. However, that is the date that the applications are due to the Diocese of Charleston and since they require your pastor's signature as well as the signature of Principal Yarnall, we need to receive them in time to obtain signatures and mail to Charleston. Please note that the application will not be accepted by the Diocese of Charleston unless you have completed the online FACTS financial aid application as well.
Parish Scholarships
Two scholarship opportunities are available through Saint Joseph Church: the Luker-Meyer Scholarship for Saint Joseph Catholic School Students and the Victor S. Raj, MD Scholarship for Saint Joseph Catholic School and Cardinal Newman School Students in grades 4-12. Click here for more information on those scholarships: https://www.stjosephcolumbia.org/scholarships.
Sixth Grade Scholarships
Hottel Scholarship
The Hottel Scholarship was created in memory of Deborah Hottel, a supporter, and champion of Saint Joseph Catholic School. Deborah's son, Ben, was a graduate of the class of 2015. Deborah's impact will clearly live on in the hearts and minds of Saint Joseph Catholic School thanks to this scholarship created in her name. The scholarship is crafted in her spirit of helping others in the hope that they, in turn, are inspired to do the same. The Hottel Scholarship is open to a rising sixth-grader who attends Saint Joseph Catholic School. Application essays are collected in the spring of the fifth-grade year. The award is $500, applied to the student's tuition for the following academic year.
Kibler Citizenship Award
The Kibler Citizenship Award is a scholarship opportunity open to any rising sixth-grader who is currently enrolled at Saint Joseph Catholic School. The Kibler Citizenship Award aims to inspire a rising 6th-grade student to exhibit honesty, compassion, respect, responsibility, and courage. To put it simply: Do the right thing and be a good citizen. Candidates for the Kibler Citizenship Award will be determined by a nomination process and the winner will be chosen by a Kibler family committee in a blind selection.
The student may be nominated by a staff member, parent, current student, or member of the Saint Joseph community. The nominating individual will need to write a detailed description and cite specific examples of how the student mirrors the criteria below.
Honesty- Exhibit fairness and truthfulness; be free of dishonesty.
Compassion- Show kindness, caring, and a willingness to help others.
Respect- Value different points of view; how one feels towards others and how they treat others.
Responsibility- Have the duty of dealing with or taking care of something or someone; being trusted to do what is right and fair.
Courage- Show the confidence to act in accordance with one's core beliefs.
The award has historically been at a minimum of $1000.00 (fluctuates with current market trends) and is applied to the student's tuition for the following academic year.
Exceptional SC Scholarship
Through tuition tax credits and scholarships, Exceptional SC helps students with special needs attend credentialed private schools. To be eligible for the scholarship or tuition tax credit from Exceptional SC, you must have one of the documents listed below to prove eligibility. The eligibility/reevaluation determination date on the document must be within the past three years. Acceptable documents are:
Independent Medical Professional Form
Multi-Disciplinary Team Report (MDTR)
Individualized Education Plan (IEP)
Individualized Service Plan (ISP)
Eligibility Determination Letter
Other Letter or Document from a South Carolina public school district.
If you have any questions regarding eligibility, please contact the school's Director of Support Services, Mrs. Stacy Carns scarns@stjosdevine.com. You can obtain more information regarding the scholarship and the application process at www.exceptionalsc.org.​
If the financial aspect of your child's education becomes a concern at any time, please contact the school office to discuss your situation with Mr. Yarnall.
If you have any questions regarding financial assistance, please contact our Bookkeeper, Brenda Jones, at 803-254-6736 or bjones@stjosdevine.com.