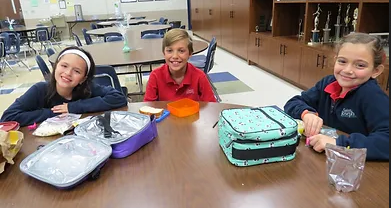 Students of Saint Joseph Catholic School may bring lunches from home, or they may choose to participate in the Saint Joseph lunch program which is managed by Schoolhouse Fare.
Schoolhouse Fare is a full-service, Internet-based lunch program designed to provide you and your child(ren) with the convenience of ordering nutritious and delicious meals from some of the area's most popular restaurants. All families, teachers, and staff can register with Schoolhouse Fare to utilize this lunch program.
NEW FAMILIES
GO TO: https://orders.schoolhousefare.com – (please bookmark this page)
Click Create an Account
Password is STJOE
Follow the prompts to complete registration and add students
Click the Home/Order link to begin ordering
Once you have registered and created your personal password and entered your email address, you can view the current month's menu, then place and pay for your monthly lunch order.
RETURNING FAMILIES
Sign In with your username & password
Update student info, add their grade for the new school year & click "update profile"
If a student has graduated, select their name & click "remove profile"
Once all profiles are updated – Click on the Order link to begin ordering.
ORDERING TIPS
Check out & pay – Please be sure to complete the checkout process when placing an order. Do not close your browser prior to receiving the confirmation display or your order may be interrupted and not fully processed. Items left in your shopping cart will not be processed and your order will not be
place
Ordering for more than 1 person? Please be sure to add all items for your student(s) into the shopping cart BEFORE checking-out.
If the TOTAL transaction is less than $10.00, a $1.00 processing fee will be applied to the total order. The total transaction could be for more than one day and for more than one student.
Print your order – Click "View/Print Order" at the top of the monthly calendar
ORDERING DEADLINES
The order deadline for full lunch menu is 5 days prior to the lunch delivery date. In
addition, we offer a late order menu which is open until noon the day prior to the delivery date.
LUNCH PROGRAM QUESTIONS AND TECHNICAL SUPPORT
For questions regarding Food or Policy, including Missed/Late Orders, Credits, and Changes/Cancellations, please email info@schoolhousefare.com or call 843- 297-8030, and we'll get back to you right away.