Parent-Teacher Organization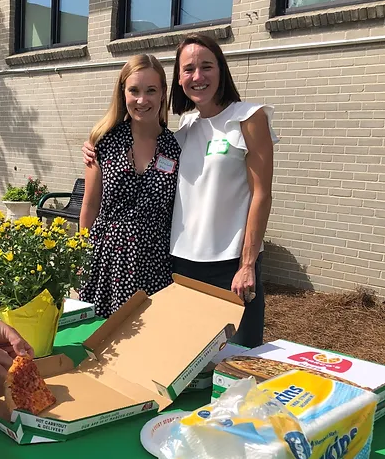 The primary purpose of the PTO is to support the ongoing mission of Saint Joseph Catholic School. Through the PTO, parents/guardians and teachers strive to build community, strengthen communications, and provide resources necessary to support the school and the programs it offers. The PTO is also a forum for exchanging thoughts, expressing ideas and sharing experiences. There are many opportunities to volunteer and become an active part of your child's school and to make lifelong friends in the PTO.
Saint Joseph PTO Opportunities
Some of the programs sponsored by the PTO include Fall Festival; Mother-Son Baseball; the Father-Daughter Dance; and lunch for the Saint Joseph Feast Day.
The PTO Board officers for 2023 – 2024
General:
President: Michelle Tillman-Gibson
Vice President: Kelly Gandolfo
Treasurer: Melissa Yezbak
Secretary: Kate Fogle
Church Liaison: Lauren Barron
Homeroom Parents: Carla Goff
Sunshine: Haley Lawson
Teacher Appreciation: Lauren Dowdy
Saint Joe's Clothes – Used Uniform Sale: Anne Ryan
Yearbook – Chair needed
Campus Beautification – Chair needed
​Fundraising:
Charleston Wraps: Anne Ryan
Divine Auction: Margaret Asay
Run with the Saints: Katie Livingston & Melissa Yezbak
Sponsorships: Roxanne Ancheta
​Events:
Fall Festival: Michelle Tillman-Gibson, Carla Coff, Casey Cornwell
Grandparents Day: Sarah Shell
Catholic Schools Week: Kelly Gandolfo
Lenten Supper: Lauren Barron
Saint Joseph Feast Day: Carla Goff, Casey Cornwell
Saint Patrick's Day Parade: Diane Rager
Daddy/Daughter Dance: Casey Cornwell & Michelle Tillman-Gibson
Mother/Son Baseball: Elizabeth Kubas
Christmas Shop: Kaley Wilson
Spirit Nights: Karla Buru
BBQ on the Blacktop: Liz Williams
Back to School Bingo: Kate Fogle & Kelly Gandolfo