Saint Joseph Catholic School History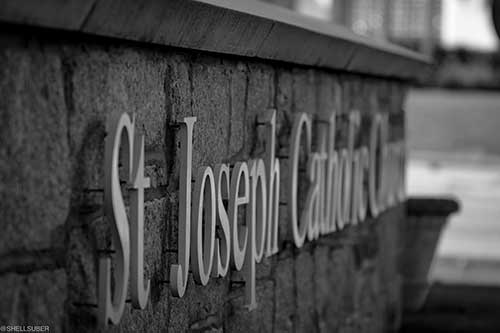 Saint Joseph Catholic School has a history of tradition and excellence in the Columbia community. In 1953, the parishioners of Saint Joseph Catholic Church realized a need to provide a Catholic elementary education to the children of its parishioners and fellow community members. The parishioners began collecting the funds to construct an elementary school next to the church. Construction began in late 1953 and Saint Joseph Catholic School opened its doors for classes on September 7, 1954.
Saint Joseph's First Years
During the first years of operation, Saint Joseph Catholic School offered elementary education for first through sixth grades with one class of each grade level. Seventh grade was added in 1955 and eighth grade was added in 1956. In 1989, the decision was made to incorporate seventh and eighth grade into Cardinal Newman Middle School in Columbia.
Kindergarten (K5) was added in the early 1970s, and, in 1992, the kindergarten program was expanded to include 4 year-old-kindergarten (K4). Since 1992, the school has provided Catholic education for grades K4 through sixth with an average annual enrollment of 330 students.
Ongoing capital improvements have continued to enhance the Saint Joseph campus. In 1992, the school added a computer lab, art room, library, guidance office, music room, science lab, and gymnasium to its facilities.
Saint Joseph Continues to Expand
In the summer of 2007, a new building project was completed to renovate the front office and to make the entrance to the school building more secure. The faculty work room and lounge were also renovated, and offices for the principal and assistant principal were created. Also, a science lab was created on the first floor of the Rowland Educational Building.
The school's front corridor was renovated in 2009 to include new tile flooring and a cleaner, more open design. The school's cafeteria, Kamler Hall, was renovated in 2010. In 2011, in large part due to the success of our 2010-11 Annual Fund drive, we were able to make major upgrades to technology and facilities – new laptop computers were given to each teacher and in-classroom sound systems were upgraded. A new 4K/5K playground was installed in the summer of 2012.
In 2020, we undertook our most recent renovation with the generous financial support of our parish. All classrooms in the original buildings on campus were renovated with new flooring, windows, doors, paint, cabinetry, etc. The overall design improved safety on campus as well as cleanliness and accessibility. We also added a large permanent sign in front of the school and upgraded furnishings throughout the school.
Still Inspiring Minds, Building Character and Living Faith
Throughout the past 60 years, the Saint Joseph Catholic School community has seen many changes. We remain committed to Inspiring Minds, Building Character, and Living Faith, as we continue to provide excellence in academics, character development, and spiritual formation to the children of the Columbia community.